Newsletter November 2022
CriskCo welcomes it's newest clients in Mexico!
In the past week, CRiskCo began working with three different leading leasing and financial institutions in Mexico: Casanova Rent, IT Capital and Roca Rent.
It gives us great pleasure to announce that we are the top credit risk analysis solution in the country, thanks to our SAT API and artificial intelligence technology.
As the year is coming to a close, now is the time to make plans to improve your company by 2023.
CRiskCo in the AMSOFAC 2022 Convention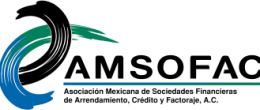 As partners of AMSOFAC, Mexican Association of Leasing, Credit and Factoring Societies, we attended the AMSOFAC 2022 Convention, which took place in 3 and 4 of November. Akram Saab, our Latin America Regional Manager, was in charge of introducing CRiskCo in the event that was held in Mexico City.
The event was attended by authorities, sector leaders, and national and international experts. The program included 2 working days of topics like taxes, financing, commercial best practices, economic overview, sector perspectives, and more.
4 Ways to Improve Your Credit Score
If you want to request financing for your business and look as good as possible on a credit report, there are some tips you can follow to increase your chances of getting it.
1. Generate History
One of the reasons for rejection when seeking credit is a lack of historical information, i.e. no information on the organization's financial performance to be consulted by lenders.
As a result, the first step is to begin collecting data, and a good way to do so is with a business credit card.
2. Pay completely and on time
Related Posts
Newsletter August 2022 The CRiskCo Credit Score is now available! CRiskCo's "FinScore" is a credit scoring system that uses a proprietary algorithm to track and evaluate a company's financial performance, resulting in a score. The score is calculated…
Newsletter July 2022 CRiskCo now live in Israel! Bank Hapoalim and CRiskCo have partnered to conduct a Proof of Concept on how Open Accounting technology can be adopted to the Israeli market to increase business owners' access to credit. The…
Subscribe
Join our newsletter and stay up to date!
Categories