Newsletter August 2022
The CRiskCo Credit Score is now available!
CRiskCo's "FinScore" is a credit scoring system that uses a proprietary algorithm to track and evaluate a company's financial performance, resulting in a score. The score is calculated using AI and ML and is based on specific data about the company such as invoices, payments, and so on. From now on, all Mexican businesses connected to CRiskCo will get a credit score.
This metric has progressed from traditional statistical methods to the use of advanced algorithms and methods such as random forest, neural network, recursive neural network (RNN), deep neural network, and gradient boosting.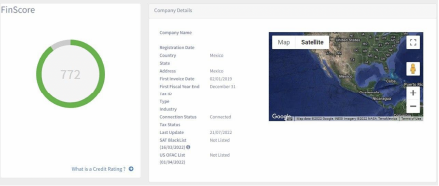 Our fin score ranges between 300 and 850. Companies with credit scores near 300 are more likely to fail and go into debt, whereas those with credit scores closer to 850 are more likely to stay in business and pay their bills.
#What can I do with a credit score?
Credit scoring is used to approve or reject credit applications, make offers to prospective consumers and businesses, determine pricing levels, and adjust the price to the risk.
We offer an additional risk data analysis and decisioning model platform in collaboration with BeeEye. Our customers can connect other data sources, such as internal databases and external APIs, to construct more complex and customized scoring models that can help them make better decisions.
We'd like to introduce Pymes Capital, our newest partner from Miami, that specializes in offering MCA digital loans to Mexican SMBs
If you want a digital, fast, and customized loan with a high acceptance rate, you should go to: https://pymescapital.com.mx/
Pymes Capital is welcoming growing SMBs to apply for financing and grow!
Visit to our team in Mexico!
Erez Saf, CEO of CRiskCo, traveled to Mexico to visit our team members, share experiences, and keep growing!
Reminder: It's always a good time to pay visits and spend quality time with our coworkers!
Our Mexican team's breakfast gathering with Kova Ventures in Saks, Polanco.
Welcoming our new community members
Every month, our team works hard to provide a great product while also investing time in growing our community. Special thanks to the CRiskCo team and everyone who believes in our product.
We'd like to extend a warm welcome to these new members of our community.
New blog release: The importance of Cybersecurity in the Financial Industry
The financial environment is driving service digitization with increasing force, thanks to fintech. Given the potential consequences of a data or system breach, cybersecurity is one of the industry's top priorities.
In accordance with the foregoing, the Bank of Mexico defines three types of cyber-attack.
Would you like to learn more about Open Finance?
Related Posts
Newsletter November 2022 CriskCo welcomes it's newest clients in Mexico! In the past week, CRiskCo began working with three different leading leasing and financial institutions in Mexico: Casanova Rent, IT Capital and Roca Rent. It gives us great pleasure to…
Newsletter July 2022 CRiskCo now live in Israel! Bank Hapoalim and CRiskCo have partnered to conduct a Proof of Concept on how Open Accounting technology can be adopted to the Israeli market to increase business owners' access to credit. The…
Subscribe
Join our newsletter and stay up to date!
Categories