Newsletter December 2021
CRiskCo was at the LendIt LATAM conference in Miami, FL!
LendIt Fintech LatAm is Latin America's leading event for innovation in financial services. This year's conference was a hybrid event that took place on December 7-8 in Miami and offered both physical and virtual tickets. Digital banking, the leading edge of fintech, innovative lending and financial inclusion models, and the payments revolution were among the hot themes highlighted.
CRiskCo was a proud sponsor and exhibitor at the event. Our amazing booth, full of the CRiskCo vibe, was hosted by some of our team members! We'd want to thank everyone who came by and showed an interest in learning more about us. If you didn't get a chance to chat with us during the event, you can always reach out to us online!
Third time's a charm! This year we attended the LendIt LATAM conference for 3rd year in a row. It was fantastic to learn, network, and discuss FinTech in such a lively environment alongside the top fintech entrepreneurs of Latin America!"
-Erez Saf CEO, CRiskCo
CRiskCo's Credit Rating feature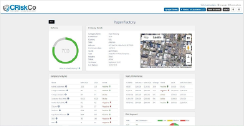 The CRiskCo Credit Rating, a FinScore, is a comparison of the company's financial conduct with that of other companies in the Mexican market, ranging from the best to the worst performers. It is calculated depending on the company's financial performance. It states how stable the company is and how much risk it implies to the financial entity. The credit rating is shown for both the referral and the business itself. The range is between 300 (higher risk), to 850 (lower risk).
CRiskCo and Mendel join forces to improve financial processes in Mexico
CRiskCo and Mendel have established a strategic partnership to make the financial experience of Mexican small and medium businesses a safer, smarter, and simpler one. CRiskCo helps financial entities access complete and up-to-date financial information as well as an AI-powered analysis of an SMB, integrating easily and quickly with the SAT and making the underwriting process easier. Mendel assists businesses in lowering their company expenses using a technological platform that combines a financial management tool and a credit card generating money savings, helping reduce fraud and automatically consolidating expenses.
The fundamental reason for the CRiskCo and Mendel collaboration is a shared goal of supporting small and medium businesses. With CRiskCo's technology, Mendel will be able to help small business owners even more in getting access to credit, grow their businesses and accomplish their dreams.
To read the full article,
Fun & Learning Day at CRiskCo!
We took a day off from work to enjoy some fun outside of the office. The CRiskCo team in Israel had a great time flying the Israeli Air Force F-16 aircrafts in simulators.
During the activity, we had a lot of fun solving different missions together. We learnt to talk openly outside of the office, collaborate, and get to know each other better. Quality time as a team is essential for us as individuals and as members of CRiskCo.
Congratulations to Eran and his winning squad!
To many more happy moments together!!
New strategic partnership with BeeEye!
We are happy to announce our new collaboration with BeeEye.
BeeEye is a FinTech company based in Israel. BeeEye's EyeOnRisk Platform is used by financial institutions to design, implement, adapt, test, validate, optimize, and monitor credit scoring models. BeeEye's solution helps regulated banks and lenders boost their bottom line profitability by supporting them in delivering a non-biased and stable model.
Towards the end of the year, we want to remind you to take advantage of our CRiskCo's Five Days Challenge
We offer a one-of-a-kind experience called the "Five Days Challenge," in which we will work with you one-on-one to train, integrate, and adjust CRiskCo's platform capabilities to your business. On the challenge, you will have one week to try out our system and see what you can accomplish with it, all for free and with our assistance. Are you willing to take on the challenge?
You'll be surprised by the results!

Related Posts
Newsletter July 2022 CRiskCo now live in Israel! Bank Hapoalim and CRiskCo have partnered to conduct a Proof of Concept on how Open Accounting technology can be adopted to the Israeli market to increase business owners' access to credit. The…
Newsletter June 2022 We would like to invite you to our webinar in collaboration with AMFE Time: Wednesday June 15th @ 11:00 hrs Mexico City time. Zoom link: https://us02web.zoom.us/j/84825077555?pwd=OS84NU9lM1V4bURabHVKZ2RHbjFrQT09 Access code: 537865 *the webinar will be held in Spanish…
Subscribe
Join our newsletter and stay up to date!
Categories