Newsletter October 2021
CRiskCo has surpassed $80 billion worth in data on its database!
CRiskCo's invoice database (sales and expenses) grew tremendously in 2020 and 2021. As you can see on the graph below, we started 2020 with $1 billion worth in total data, and by the end of the year, we had $12 billion!
Now, in October 2021, we have surpassed the $80 billion mark in data, showing CRiskCo's exponential growth. Every week, we're delighted to see how far we are progressing.
Do you want to give the CRiskCo platform a try but aren't sure where to begin?

We now offer a one-of-a-kind experience called the "Five Days Challenge," in which we will work with you one-on-one to train, integrate, and adjust CRiskCo's platform capabilities to your business. On the challenge, you will have one week to try out our system and see what you can accomplish with it, all for free and with our assistance. Are you willing to take on the challenge? You'll be surprised by the results!

Contact us to get started
CRiskCo at the Beyond Business 2 conference in the UAE with Bank Hapoalim

From October 16 to 20, CRiskCo was selected to join a special delegation organized by Bank Hapoalim to Dubai and Abu Dhabi, where we'll be attending the Beyond Business 2 conference. It's a terrific opportunity for CRiskCo to expand our worldwide connections, and we're very excited about it. We've been selected as one of the top five FinTechs in Israel to participate in the FinTech Abu Dhabi Global Tour – The Search, Israel Stop.

In addition, CRiskCo will be in EXPO 2020 Dubai, which has been dubbed "the world's most important international exhibition for business leaders from over 190 nations."

Looking for new opportunities and to strengthen the connections between Israel and the UAE!
New API for embedded SAT connection

Always wanted to allow your applicants to connect to the SAT at your website?

Starting Today you can, and it's incredibly simple! With our new REST API dedicated to Mexican FI's, Sofomos, and banks, you can create an embedded SAT connection capabilities at your own website and use our API to handle the request.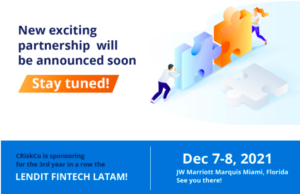 Related Posts
Newsletter July 2022 CRiskCo now live in Israel! Bank Hapoalim and CRiskCo have partnered to conduct a Proof of Concept on how Open Accounting technology can be adopted to the Israeli market to increase business owners' access to credit. The…
Newsletter June 2022 We would like to invite you to our webinar in collaboration with AMFE Time: Wednesday June 15th @ 11:00 hrs Mexico City time. Zoom link: https://us02web.zoom.us/j/84825077555?pwd=OS84NU9lM1V4bURabHVKZ2RHbjFrQT09 Access code: 537865 *the webinar will be held in Spanish…
Subscribe
Join our newsletter and stay up to date!
Categories